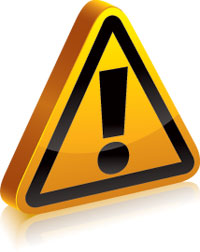 Are you experiencing excessive temperature imbalances in your home? Although proper installation and maintenance of your HVAC system's ductwork is critical to the efficient functioning of your heating and cooling system, homes that experience unbalanced airflow may develop a number of uncomfortable and energy-wasting conditions, some of which can be assisted through simple modifications and repairs of the ductwork.
Since all the conditioned air that keeps you comfortable year round must pass through ductwork to reach each room in your home, any problems with those ducts will result in reduced comfort and lower energy efficiency. You may suspect unbalanced airflow if excessive temperature differences occur in your home, or if you notice that the amount of airflow leaving different vents is substantially higher or lower than others, in spite of all vents being equally open.
Particularly in homes with long ductwork runs or in tall buildings, unbalanced airflow can lead to additional comfort-related problems including increased allergy symptoms, as improperly installed ducts tend to re-circulate stale air and are unable to create balanced airflow conditions in each room. While some rooms will receive more airflow than needed (which means those spaces will also receive a greater amount of any mold, dust, debris, etc. present in dirty ductwork), other rooms tend to be starved for adequate airflow, leading to additional problems including higher humidity.
In order to prevent or improve conditions related to unbalanced airflow, the following tips can be helpful:
Make sure your ductwork is properly designed and installed during any new construction or remodeling projects to minimize kinks, loops, excessive bends, etc.
Schedule a professional inspection to check for ductwork in need of sealing and/or cleaning, as leaky, dirty, or obstructed ducts make it nearly impossible to achieve balanced home comfort.
Consider installing duct dampers and/or booster fans to regulate unbalanced airflow conditions in each room of your home.
Homeowners in the Fort Wayne area seeking expert advice on any home comfort issue can contact the professionals at Hartman Brothers Heating and Air Conditioning, where we have been helping people enjoy their indoor spaces since 1963.
Our goal is to help educate our customers in New Haven, Indiana and surrounding Fort Wayne area about energy and home comfort issues (specific to HVAC systems). For more information about unbalanced airflow and other HVAC topics, download our free Home Comfort Resource guide.
Credit/Copyright Attribution: "Goldenarts/Shutterstock"