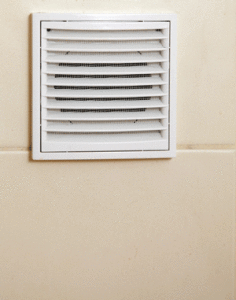 Is your bathroom properly ventilated? Even if you've got an exhaust fan installed, you may be surprised to learn that your system still isn't doing your home a lot of good. Fortunately, it's fairly easy to evaluate your existing bathroom ventilation and make the necessary improvements to protect your home's building components and your family's health. Read on to learn about proper bathroom ventilation.
Assessing Your Need
Take a closer look at your bathroom. If it does not currently have an exhaust fan, your needs are pretty clear; but if you have an existing fan, they might not be quite as obvious. In this case, you'll need to find out where the moisture from your bathroom is being exhausted. If you find that excess moisture is being vented to an unheated attic or to the spaces between ceiling joints, you've got a problem. This only creates trouble elsewhere within your home. Instead, you need to install a fan that exhausts air to the outdoors.
Buying a Fan
Once you know that you need a new bathroom ventilation system, it's time to select a fan. First, you need a unit that is properly rated to meet your bathroom's airflow capacity needs. As a rule, your fan will need to be rated at 1 cubic foot per minute (CFM) for each square foot of floor space in the bathroom. If your bathroom is larger than 100 square feet, you'll need to make extra accommodations. Typically you'll add 50 CFM per toilet, bath, shower, or shower/tub combo and 100 CFM per whirlpool. Additionally, be sure to look for an Energy Star fan to minimize energy consumption and maximize savings.
Considering Other Features
Would you like a little more bang for your buck? Many fans come with other features, like motion and humidity sensors, heating, and lighting systems. This can increase your fan's value.
Don't put off making improvements to your bathroom ventilation system. Call the experts at Hartman Brothers Heating & Air Conditioning today and start making plans for an upgrade. We work with homeowners throughout Fort Wayne and its surrounding areas.
Our goal is to help educate our customers in New Haven, Indiana and surrounding Fort Wayne area about energy and home comfort issues (specific to HVAC systems). 
Credit/Copyright Attribution: "Voyagerix/Shutterstock"