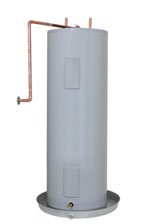 In most cases, consumers wait for their water heater to go out before they consider a replacement. This can lead to a lack of hot water until the old model is replaced, and it may result in a higher cost up-front because you won't be able to wait for end-of-the-years sales or other discounts that might be available. Since this is somewhat of an emergency, you may have to pay a premium for immediate service.
The best time for water heater replacement is before it goes out completely. But to do this, you'll have to recognize the signs of a failing water heater before it's too late.
Age. If your storage tank water heater is between 10 and 15 years old, consider it on its last legs. Ten to 12 years is the average lifespan of a storage water heater, and knowing its age can help you begin planning for replacement before it breaks down entirely.
Leaking. If your water heater is beginning to leak at the seams or its base, it's past time to look for a new one. Leaking at the drain spigot can generally be repaired, but leaking at the seams is terminal, and you are on borrowed time when that occurs.
Taste. If you notice a distinct metallic taste to the water, chances are your water heater does not have long to go. While this metallic taste probably isn't harmful to you or your skin, it signals damage to the water heater itself, and is a sure sign that there isn't much functional time left for your unit.
Rust. This signals that your water heater is corroding, and corrosion always leads to failure. Examine the water straight from the drain spigot, and if the water is red, start looking for a water heater replacement.
For any questions about your water heater and how long it may last, or getting it professionally repaired to keep the warranty intact, please contact us at Hartman Brothers Heating and Air Conditioning. We have the answers to your questions, and will guide you toward the right size water heater for your needs. We've been serving the Fort Wayne area since 1963.
Our goal is to help educate our customers in New Haven, Indiana and surrounding Fort Wayne area about energy and home comfort issues (specific to HVAC systems). For more information about water heaters and other HVAC topics, download our free Home Comfort Resource guide.
Credit/Copyright Attribution: "You Touch Pix of EuToch/Shutterstock"