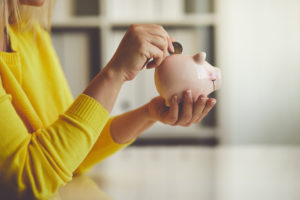 The easiest way to start saving money is to address your home's energy efficiency first. If your home is drafty, lacks insulation, or your HVAC system needs attention, you'll find that cutting back on unnecessary spending could be simple and rewarding by taking care of these issues.
Where to Start
If you don't have time to conduct your own energy audit, consider hiring a licensed expert to do the job for you. An energy audit will reveal where your home lacks insulation or leaks air through points of vulnerability - such as windows, exterior doors, the attic, and foundation.
Energy auditors user a blower door, which is a powerful fan set inside an adjustable frame that goes into an exterior door. The air pressure gauges on the door indicate how far and fast the air pressure falls. The air pressure falls quickly when homes are tight, but slowly in structures with lots of air leaks. The lack of insulation and thermal losses through windows show up on the infrared cameras used by energy auditors.
Using the Information
The audit reveals where you can seal the air leaks and add insulation to start saving money on energy, which could be substantial during the heating season. Air sealing and insulating are two of the most cost-effective and durable home improvement projects. Even investing in new windows could make a big difference.
Maintaining the HVAC System
Your HVAC system needs annual maintenance to run as efficiently as possible. Such servicing may also be required to keep the warranty for your system valid. Between maintenance visits, be sure you check and change the air filter when needed. A dirty air filter will raise heating costs and hasten breakdowns.
Improving the energy efficiency of your home and its HVAC system is the easiest and most effective way to start saving money. If you'd like to learn more or schedule a visit, contact Hartman Brothers Heating & Air Conditioning, providing HVAC services for Fort Wayne homeowners.
Our goal is to help educate our customers in New Haven, Indiana and surrounding Fort Wayne area about energy and home comfort issues (specific to HVAC systems). For more information about other HVAC topics, download our free Home Comfort Guide or call us at 260-376-2961.