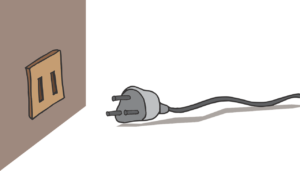 Your home may not have ghosts, ghouls, and werewolves, but it probably has vampires — energy vampires, that is. These energy-wasters are very common in modern households. Here are ways to identify energy vampires and what to do about them.
Types of Energy Vampires
You probably have many types of electronic devices in your home that have internal clocks, timers, or other settings. These are the energy vampires that are responsible for ongoing use of energy with no return on your investment. They need a small amount of standby power to keep those clocks and internal settings intact. Some of the most common energy vampires are devices that can be turned off and on with remote controls, and the following types of electronics:
Computers
Audio and video equipment
DVR recorders
Appliances
Cell phone charters
Televisions
Video game consoles
The standby energy use of each device may be small, but multiplied by several devices or many weeks or months, the amount of wasted electrical energy becomes significant.
Banishing Energy Vampires
You don't need to call a vampire slayer to get rid of energy vampires in your home. Try these suggestions.
Unplug them: The simplest, quickest, and easiest way to get rid of an energy vampire is to unplug it. When you unplug an energy-using device, you ensure that no electrical power can get to it. If you prefer, you could plug one or more of these devices into a power strip and shut them all off at once by turning off the strip. Cell phone chargers are particularly wasteful and should be given particular attention.
Replace with Energy Star Devices: As you replace these energy-using devices, look for new ones with the Energy Star certification. They will have been tested and certified to be as energy efficient as possible.
With more than a half-century of experience in the HVAC industry, Hartman Brothers Heating & Air Conditioning is Fort Wayne's expert source for heating and cooling services. Contact us today for more information on locating energy vampires in your home and stopping them from wasting the energy you pay for each month.
Our goal is to help educate our customers in New Haven, Indiana and surrounding Fort Wayne area about energy and home comfort issues (specific to HVAC systems). For more information about energy savings and other HVAC topics, download our free Home Comfort Guide or call us at 260-376-2961.
Credit/Copyright Attribution: "mattysimpson/Pixabay"