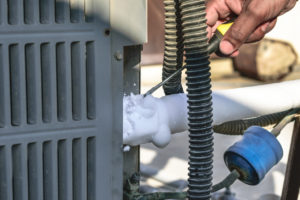 Experiencing an A/C freeze is a sign that your cooling system needs immediate attention. The causes are usually easy to fix and won't take long, and the sooner you take action, the sooner the A/C can resume cooling.
Low Airflow
All air conditioners blow air over an evaporator coil that holds the cold refrigerant that absorbs the heat from the air moving over it. When the airflow over the coil slows, the refrigerant won't absorb as much heat and it will flow back to the compressor at a colder temperature. When it returns to the coil, the refrigerant could freeze the coil.
Primary causes of the lack of airflow include:
An overly dirty air filter. Check the filter and if it's clogged, replace it.
Excessive amounts of dust on the evaporator coil. The dust acts as insulation and the refrigerant may not be able to remove enough heat. If you can, gently remove the dust by vacuuming the coil or dusting it. There may be fragile fins surrounding the coil. If so, use a light pressure or call your HVAC contractor to clean them for you.
Mold or a biofilm may cover the coil and cause the A/C freeze. The evaporator coil provides an ideal environment for mold or biofilm growth. Temperatures and moisture levels are conducive to growth and it's hidden from view, where it can grow unfettered.

The coil will need a thorough cleaning and an HVAC expert can discover the causes of the excessive moisture that promote growth. Installing a UV (ultraviolet) light that shines on the coil can prevent future growth.
Low Refrigerant
Whenever the refrigerant level drops too low, the coil can freeze. If the filter and coil are clean, suspect low refrigerant. Your HVAC contractor will have to measure the level and install more if it's low.
It's possible to avoid an A/C freeze this summer by keeping your system clean and having it professionally serviced. For more information, contact Hartman Brothers Heating & Air Conditioning, providing HVAC services for Fort Wayne homeowners.
Our goal is to help educate our customers in New Haven, Indiana and surrounding Fort Wayne area about energy and home comfort issues (specific to HVAC systems). For more information about other HVAC topics, download our free Home Comfort Guide or call us at 260-376-2961.