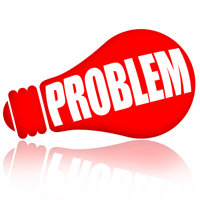 Springtime in the Fort Wayne area is an excellent time to discover and correct common air conditioner problems to keep your system running efficiently during the hot, muggy days of summer.  As a homeowner, you can examine several parts of the air conditioner to determine if you can make simple changes or whether a certified technician should make the repairs during annual maintenance. Several common air conditioner problems you can correct or report to your technician include:
Clear the area around the outdoor condenser. Buildup of dirt, dried leaves and other debris on the unit will restrict airflow and release of heat. Gently rinse the unit with a hose to clean the fins and coils.
Clean or replace the filters. Replace clogged disposable filters with fresh ones or clean reusable filters with mild, soapy water. During the summer, check filters monthly and replace them when they look dirty. A clogged filter can degrade indoor air quality (IAQ) while making A/C equipment work harder and less efficiently.
Check the condensate pan and drain. If excess water is accumulating in the pan, the drain to the outdoors is probably blocked. This excess water will add moisture to the conditioned air and increase humidity in your home. A certified technician has special tools to remove the blockage.
Examine your ducts. Look for obvious cracks or leaks in the ducts and sagging sections of ducts to report to your technician. Also, mention any excess dust or smells you notice in your home.
During your annual A/C tune-up, a pro will complete a thorough examination of your system and look for other common air conditioner problems, such as:
Refrigerant leaks: The technician will check refrigerant levels, physically check for leaks if the levels are low, make repairs and charge the system. Refrigerant levels have exact manufacturer's guidelines that must be met.
Electrical connections: The tech will check for corrosion or damage of electrical components and clean, tighten or repair parts to prevent malfunctions in the system.
For more information on solving common air conditioner problems, contact the experts at Hartman Brothers Heating and Air Conditioning Inc., serving the Fort Wayne area for over 50 years.
Our goal is to help educate our customers in New Haven, Indiana and surrounding Fort Wayne area about energy and home comfort issues (specific to HVAC systems).  For more information about common air conditioner problems and other HVAC topics, download our free Home Comfort Resource guide.
Image courtesy of Shutterstock