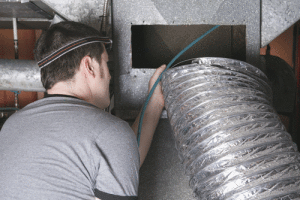 When you're looking for ways to improve your home's energy efficiency, the network of air ducts hidden behind the walls and ceilings may not come to mind. If you haven't been keeping up with duct maintenance, holes, leaks, poor connections and a lack of insulation can rob you of 20 to 30 percent of HVAC system output.
It's easy to see the potential savings on heating and cooling costs that duct maintenance offers, but it also brings other benefits too. You'll enjoy a more comfortable home with fewer temperature fluctuations between rooms. Without the risk of contaminants or combustion fumes being pulled in and circulating through the home, you'll have healthier indoor air quality.
How to Tackle Duct Maintenance
To tackle ductwork maintenance yourself, start by sealing gaps and leaks with metal-backed tape and installing R-6 insulation on any accessible ducting. Don't use duct tape, since it won't stay in place long-term. Seal the connections between the registers and the ducts as well to eliminate air leakage.
If you're concerned about maintaining ducts in hard-to-access areas like the garage, crawlspace, basement or attic, ask your HVAC contractor about duct sealing. A pro not only takes the steps mentioned above, but will also typically include a number of others that are very beneficial, such as:
Checking ducts in the hard to reach locations and fixing any leaks, damaged areas and disconnected sections.
Sealing the ducting seams and joints with fiberglass mesh and mastic sealant.
Testing for proper air balance on the supply and return runs to identify possible sizing issues.
Wrapping ducts in unconditioned spaces with R-6 or higher insulation.
Checking for proper system airflow once all the ducts are sealed.
Testing for combustion safety to make sure lethal carbon monoxide (CO) isn't back drafting into the air supply from the furnace or water heater.
Changing the air filter to keep any airborne particles in the ducts from entering the HVAC system.
To schedule professional duct maintenance to improve your home's energy efficiency, contact Hartman Brothers Heating & Air Conditioning, Inc. We've proudly served the Fort Wayne area since 1963.
Our goal is to help educate our customers in New Haven, Indiana and surrounding Fort Wayne area about energy and home comfort issues (specific to HVAC systems). For more information about duct maintenance and other HVAC topics, download our free Home Comfort Resource guide.
Credit/Copyright Attribution: "Lopolo/Shutterstock"