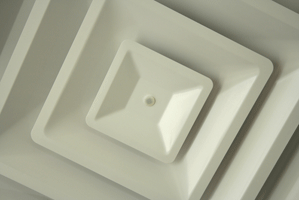 There are many different air duct problems that can affect your heating and cooling system. Each one has different signs that can help with diagnosis of the problem. Here are a few explanations of different duct problems that you may be facing and how to tell what the culprit is.
Common Problems
Preventive maintenance is the first step in keeping your HVAC system in the best shape. If you are not receiving the flow of air that you should be from your air conditioner or furnace, the air filter may have gotten sucked into the duct system. This is a pretty easy check that should not take too long. A fire damper that's stuck half open or completely closed can also cause this problem. If your supply air duct system is leaking, you will also encounter poor air flow.
More Issues
Dirty blades on the blower assembly fan will reduce the system's ability to move conditioned air into occupied spaces. If your flex duct has a section that has collapsed, this can stop airflow completely. Insulation that comes loose in the air ducts may block airflow and allow bits of insulation to circulate in our home's air.
A Few More Things to Check
Transit air ducts that become crushed or return air inlet grilles that have become obstructed can starve your heating or cooling system of air, as well as reduce the conditioned air supply to various areas of your home. If your zone dampers are stuck half open, this also can impede airflow.
Please contact us at Hartman Brothers Heating and Air Conditioning to discuss your options when it comes to duct problems and the efficient delivery of air in your Fort Wayne area home. Schedule an appointment now.
Our goal is to help educate our customers in New Haven, Indiana and surrounding Fort Wayne area about energy and home comfort issues (specific to HVAC systems).  For more information about duct problems and other HVAC topics, download our free Home Comfort Resource guide.
Image courtesy of Shutterstock