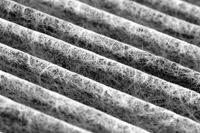 If you find yourself sneezing and notice dust bunnies multiplying in the corners, it's probably time to change your furnace filter. The filter is your first line of defense against airborne dust, mold spores and other particles, and changing it regularly is one of the best things you can do to boost the efficiency of your heating system. 
When to Change Your Furnace Filter
As a general rule, it's best to change your furnace filter about once a month if you use disposable fiberglass or paper filters. Electrostatic and HEPA (High Efficiency Particulate Air) filters last longer, and should be cleaned or changed every two to four months. That being said, it's always a good idea to check the owner's manual that came with your furnace for the manufacturer's recommendation. Factors that can cause filters to need changing more often include:
Having one or more household pets
One or more smokers living in your household
Frequently opening windows and doors
Unusual amounts of dust buildup in your house
Allergy season
Benefits of a Clean Filter
A clean furnace filter offers a number of advantages over a dirty one, including cleaner indoor air and increased system efficiency.
Air quality: A clean filter does a better job when it comes to removing dust, pet dander, mold spores, pollen and other particles from the air. This can be particularly beneficial if anyone in your household suffers from asthma or allergies.
Energy efficiency: Dirty, clogged furnace filters reduce energy efficiency by forcing your furnace to work harder than it should. When you change your furnace filter, you can see a significant reduction in energy costs.
Lifespan: regularly changing your furnace filter can extend the lifespan of your heating system by reducing the strain of blowing air through a dirty filter. Be sure to change the filter as part of routine furnace maintenance.
To learn more about furnace filter options – and help with all your home heating needs – contact Hartman Brothers Heating & Air Conditioning today. We've been proudly serving the Fort Wayne area since 1963.
Our goal is to help educate our customers in New Haven, Indiana and surrounding Fort Wayne area about energy and home comfort issues (specific to HVAC systems). For more information about furnace filters and other HVAC topics, download our free Home Comfort Resource guide.
Credit/Copyright Attribution: "Pelfophoto/Shutterstock"