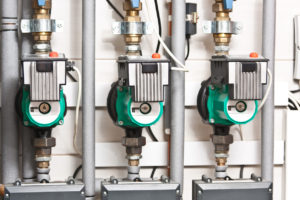 Upgrading to a condensing furnace puts you on the fast track to energy savings in the winter. Such a furnace has substantially better energy efficiency than a standard, noncondensing furnace or boiler. The term "condensing" refers to the last step in the heating cycle the furnace goes through.
A furnace has a heat exchanger that absorbs the heat that the natural gas creates as it burns. An ordinary furnace will blow air over the heat exchanger to pick up the heat and warm your home.
Condensing furnaces have a second heat exchanger that removes the rest of the heat left behind from the first exchanger. In the process, the water vapor condenses out of the air as it cools, hence their name.
Energy Efficiency Rating
Condensing furnaces have a higher efficiency rating, known as the annual fuel utilization efficiency (AFUE), than standard furnaces. The minimum AFUE for a combustion furnace or boiler stands at 80, while the AFUE for condensing systems starts at 90 and goes as high as 98.
AFUE indicates the percentage of heat created from the fuel the furnace uses. A furnace with an 80 AFUE wastes 20 percent of the fuel it uses up the chimney. A condensing furnace, however, wastes little of the heat the gas creates. A system with an AFUE of 98 would waste just two percent of the gas it consumes.
Long Term Savings
Saving energy cuts energy bills and helps the environment, which are the two primary reasons for installing such a furnace. They make sense in climates like this that have prolonged cold snaps and consistently cold winters.
Their installation is more involved than that for the typical combustion heating system because of their venting requirements. They need one vent to pull fresh air inside for the combustion process in the burner and another vent to exhaust the remaining exhaust gases to the outdoors.
Determining whether a condensing furnace would be your best heating option isn't a do-it-yourself project. To learn more, contact Hartman Brothers Heating & Air Conditioning, serving homeowners in the Fort Wayne area.
Our goal is to help educate our customers in New Haven, Indiana and surrounding Fort Wayne area about energy and home comfort issues (specific to HVAC systems). For more information about other HVAC topics, download our free Home Comfort Guide or call us at 260-376-2961.