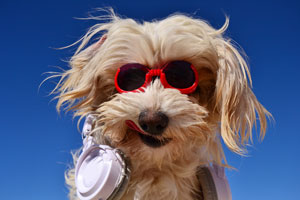 Summer heat gain invades your home comfort and your pocketbook, and makes your A/C work harder. Reverse heat gain issues and start saving energy today with these tips.
Window Coverings
Windows are a clear contributor and entryway for summer heat gain. Heavy curtains or blinds help block heat gain if they are closed on sunny days – especially in rooms that receive direct sunlight. Make sure windows are shut tight. For home remodels or new construction, take a look at Energy Star-qualified windows for better R-value (heat resistance) and acoustic dampening.
Cool Exterior Colors
Exterior walls and roofing offer less heat gain if they are cool colors. Materials help immensely, too, such as fiberglass doors, natural wood siding, and "cool" and durable metal roofs (yes, modern metal roofs are much cooler than conventional asphalt shingles).
Weatherization for All Seasons
Air sealing and insulation are two home-efficiency upgrades that should not be ignored. Air leaks exist throughout the typical home's envelope, as do insulation deficiencies. By minimizing summer heat gain, you also minimize wintertime heat loss. Proper air sealing and insulation, using good quality materials, are generally good for the life of the home – a modest amount of money very well spent.
Don't leave anything out when sealing up your home. Check the damper on the fireplace, spot ventilation (kitchen and bath), and shared walls and doors of attached garages and pet doors.
Home Ventilation
Whole-home ventilation, such as energy-recovery ventilators, ceiling fans and mechanical attic ventilation, is a boon for comfort, energy savings and the protection of home structure (attic ventilation). Turn on the ceiling fans and reduce A/C use.
Interior Heat Gain
Curtail indoor activities that produce heat and humidity, such as cooking, showering, and clothes and dish washing, during the hottest parts of the day. Perform these activities in the morning and late evening. For fast savings, change out all incandescent light bulbs with CFLs (compact fluorescents) and LEDs (light-emitting diodes), and save up to 80 percent on home lighting.
Summer heat gain is nothing to sweat about with the right strategy. Please contact us at Hartman Brothers Heating & Air Conditioning for more tips. We provide quality HVAC services to the Fort Wayne area.
Our goal is to help educate our customers in New Haven, Indiana and surrounding Fort Wayne area about energy and home comfort issues (specific to HVAC systems). For more information about heat gain and other HVAC topics, download our free Home Comfort Resource guide.
Credit/Copyright Attribution: "Bildagentur-Zoonar-GmbH/Shutterstock"