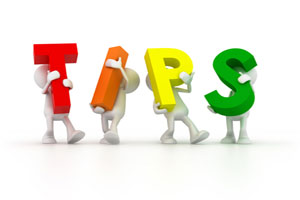 Split-system central air conditioners make our lives much more comfortable, but their outdoor components don't always look so good in our yards. One way to make the outside unit – that gray box that holds vital components of your A/C – look less conspicuous is to use landscaping. An added benefit is that the cover and shade from the landscaping may actually make the unit run more efficiently, as long as good landscaping tips are followed.
Choose effective plants. Unless you love to garden, you'll want to choose plants that are low maintenance, but also grow tall and bushy enough to hide the condenser/compressor. At the same time, you don't want to choose something that grows too quickly and gets out of hand, or that will actually touch the A/C component.
Select proper methods of irrigation. Plants need water. A drip system can supply water for your plants, while directing it away from the A/C's outdoor unit.
Choose proper ground cover.  If you are planting around the condenser unit, you will need to cover the ground. While mulch may be less expensive than landscaping rocks, the mulch may get caught in the condenser unit fan and damage the system, especially if  your outdoor unit is located in a spot that's subject to wind.
Make some room. When it's time for routine maintenance for the outside A/C unit, or if it needs repairs, you'll want your technician to be able to easily access the unit. Keep structures or plants at least three feet away from the condenser. This allows easy access for the technician and also allows the unit to function more efficiently. This also applies to fitted covers. This may be offered as a quick and easy option for hiding the condenser; however, these covers may actually damage the unit.
If you would more landscaping tips for your Fort Wayne area's outside A/C unit, contact our professional technicians at Hartman Brothers Heating & Air Conditioning, Inc. We'll help you discover how to be more comfortable in your home, without putting the aesthetics of your yard at risk.
Our goal is to help educate our customers in New Haven, Indiana and surrounding Fort Wayne area about energy and home comfort issues (specific to HVAC systems).  For more information about landscaping tips and other HVAC topics, download our free Home Comfort Resource guide.
Image courtesy of Shutterstock