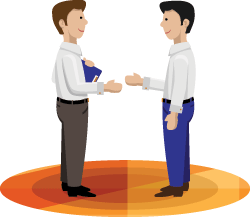 In a competitive industry like heating and cooling, a homeowner may encounter a pushy HVAC salesperson who relies on high-pressure tactics instead of professional standards and an established reputation for service. It happens in any business and, while industry certifications and accreditations help identify reputable pros and weed out the incompetent, you might still have the bad luck to encounter a less-than-credible HVAC salesperson now and then. Here are some red flags to look for, just in case.
It's Now Or Never
Any HVAC salesperson who tries to stampede you into making a snap decision with urgent offers or "special discounts" that expire within hours (or minutes) probably has maximum profits and a fast buck in mind — not your best interests. In most cases, purchasing HVAC systems or services isn't an emergency that requires an instant buying commitment. If you feel that you aren't given time to research and consider a big-ticket purchase, seek out another HVAC contractor.
No Questions Asked
If a salesperson immediately jumps to a conclusion that you need an all new system or some other high-value option without asking detailed questions to accurately diagnose the situation, he or she is more interested in making a quick sales commission rather than resolving your issues. Look for a contractor who takes the time to fully analyze the problem before recommending a solution.
Incomplete Estimates
A professional includes everything you need for proper and safe operation of your HVAC system in any estimate or bid, verbal or written. If you are quoted an unusually low price by an overeager HVAC salesperson, make certain there aren't "minor details" missing from the estimate such as the cost of permits, required duct testing or safety equipment like carbon monoxide detectors. These add up to significant expenditures you'll end up paying for before the job is done. Any salesperson who "forgets" to mention such items should be a red flag to seek other alternatives.
Looking for an established, reputable HVAC contractor in the Fort Wayne community instead of a high-pressure HVAC salesperson? Contact the professionals at Hartman Brothers Heating & Air Conditioning.
Our goal is to help educate our customers in New Haven, Indiana and surrounding Fort Wayne area about energy and home comfort issues (specific to HVAC systems). For more information about other HVAC topics, download our free Home Comfort Guide or call us at 260-376-2961.
Credit/Copyright Attribution: "greiss-design/Shutterstock"