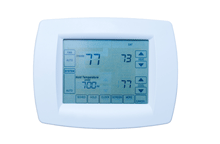 In homes heated by a furnace, setting the temperature back at night ensures energy savings. That's not necessarily the case with a heat pump, however. In order to avoid turning on the backup electric resistance heat during the recovery period (when the unit is working to get back to your comfort temperature), the heat pump's thermostat needs to work in a special way.
How Programmable Thermostat Technology Works with Furnaces
In a traditional gas- or oil-fired heating system, the programmable thermostat acts the same as an alarm clock. If you program a setback period to begin at 10:30 p.m., that request goes immediately into effect at that time. If you want the furnace to achieve the daytime temperature by 7 a.m., you set a program for 72 degrees at 6:30 a.m., giving the thermostat 30 minutes to reach its target goal.
Heat Pump Limitations
If you follow the above procedure with a heat pump, your efforts to save money by turning the thermostat down at night could be negated by the backup electric resistance heat. This is a toaster oven-like grid of heat strips in the air handler that heats up when the ambient indoor temperature is two degrees below the thermostat setting.
During the transition between the night and daytime temperature settings, the backup heat is bound to come on. In fact, if your heat pump is coupled with a traditional programmable thermostat, it's probably in your best interest to keep the temperature steady all night long.
Overcoming Heat Pump Limitations
A special heat pump's thermostat is needed to solve the recovery period problem. This type of programmable thermostat has a smart recovery option, enabling the temperature to increase one degree at a time and avoid triggering the backup electric resistance heat. You can still program the thermostat to resume daytime temperature at 6:30 a.m., but the thermostat automatically begins the smart recovery process a few hours in advance.
It's the special heat pump's thermostat that lets you see energy savings from setbacks while also enjoying a comfortable temperature when you wake up every morning. To learn more, please contact us at Hartman Brothers Heating & Air Conditioning, Inc. We provide superior HVAC services in the Fort Wayne area.
Our goal is to help educate our customers in New Haven, Indiana and surrounding Fort Wayne area about energy and home comfort issues (specific to HVAC systems).  For more information about heat pump thermostats and other HVAC topics, download our free Home Comfort Resource guide.
Image courtesy of Shutterstock