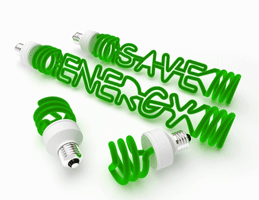 While the debate rages on over climate change, it certainly appears true that more extreme manifestations of weather are appearing all the time.
The floods, earthquakes, tornadoes, hurricanes, droughts and other disasters dealt to us by Mother Nature seem to be escalating in number and intensity, whether or not they are part of a coming prolonged pattern.
Even if these are not all attributable to human behavior, it's nonetheless true that we can all do our part to help reduce our own negative impact on weather and climate. Here are some ways all of us can help. The bonus is that most of these actions also will result in lower energy bills.
How We Can All Do Our Part
Install a programmable thermostat if you haven't already, and start benefiting from the savings you'll get when temperatures are controlled to fit your daily and weekly schedules. There's no good reason to keep a comfortable temperature in a house while it's empty all day. Use a programmable thermostat for time-controlled cooling.
Reduce usage of hot water, since much of that is wasted energy as well as being unnecessary. Showers can be shortened to just a few minutes, dishes can be washed without rinsing, your water heater can be turned down to 120 degrees F, and the next time you need a new water heater, consider a tankless model.
Replace your incandescent light bulbs with more efficient and longer-lasting CFL and LED bulbs.
Seal air leaks around doors and windows with caulk or weatherstripping, depending on whether you're sealing a moveable joint or part. This will reduce energy loss, and ease the burden on your heating and cooling systems. If your HVAC systems use forced air, take some time to make sure all ducts are tightly sealed. This should greatly improve the efficiency of your HVAC system, since less energy will be expended in pushing air through the duct network.
If you need some expert advice on any home comfort issues, please contact us at Hartman Brothers Heating & Air Conditioning, Inc. Since 1963, we have been providing high quality service and products to households in the Fort Wayne area.
Our goal is to help educate our customers in New Haven, Indiana and surrounding Fort Wayne area about energy and home comfort issues (specific to HVAC systems).  For more information about energy savings and other HVAC topics, download our free Home Comfort Resource guide.
Image courtesy of Shutterstock