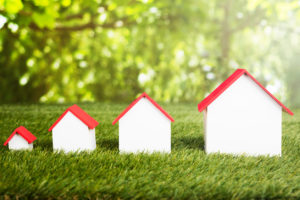 Air conditioner sizing is a critically-important consideration when you're planning to purchase new cooling equipment. According to the U.S. Department of Energy (DOE), an A/C's size needs to match the space it's going to cool. An undersized A/C will run for extended periods, use a lot of energy, but won't cool your home's interior sufficiently for comfort. An oversized air conditioner will only run for short cycles, so it won't dehumidify effectively or cool your living space efficiently.
How A/Cs Are Sized
Air conditioners are sized based on the amount of heat they remove from a home. This capacity for cooling is expressed by two terms that mean the same thing -- British thermal units (BTUs) and tons:
The BTU output of an air conditioner tells you how much heat it can remove in one hour. Most often, simple BTU outputs are used for smaller capacity A/Cs, like window, mini-split and portable A/C
A ton equals 12,000 BTU, and this measurement is typically used to describe the cooling output of larger central air conditioners. The sizes increase by half-ton increments, so a two-ton A/C produces 24,000 BTU of cooling, while a 3.5-ton unit provides an output of 42,000 BTU.
Sizing for Different Types of Air Conditioners
The best method for sizing your new air conditioner depends on the type of cooling equipment you plan to purchase:
Window, portable and single mini-split units are typically sized based on the square footage of the room they'll cool. According to the DOE, you should choose a unit that provides 20 BTUs of cooling capacity per square foot of room space.
To properly size traditional central and multi-unit mini-split systems, it's advisable to have a manual J load calculation competed by an experienced HVAC professional. This computerized calculation takes various unique characteristics of your home into account, such as the square footage, ceiling heights, windows, insulation level, orientation and exterior shading, and the number of occupants.
If you're planning to purchase new cooling equipment for your Fort Wayne home, contact us today at Hartman Brothers Heating & Air Conditioning for accurate air conditioner sizing advice.
Our goal is to help educate our customers in New Haven, Indiana and surrounding Fort Wayne area about energy and home comfort issues (specific to HVAC systems). For more information about other HVAC topics, download our free Home Comfort Guide or call us at 260-376-2961.