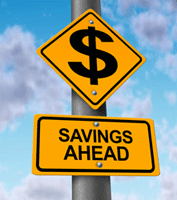 If you're tired of high utility bills, but want to stay cool over the summer, it may be time to try out a two-stage cooling system. Unlike traditional air conditioners that only have one setting on their compressor, paired with a variable air handler (or fan), a two-stage cooling system will actually have a variable speed on its compressor. This means with two-stage cooling, you can control how much cold air you're paying to generate at any particular time, as well as how fast it's being disbursed, making the system more energy efficient. 
Traditional A/C models only have variable speed air handlers. The compressor itself generates cold air at full-speed or turns off, no matter how much cooling is needed. This wastes energy and leads to uneven temperatures inside.
With a two-stage compressor, it can run at a lower energy setting most of the time, giving the home a comfortable, even temperature. Because the compressor is running at a steady, low pace, it can also remove more humidity throughout the day than a traditional A/C. When the temperatures outside spikes, it can switch the compressor to the high setting until reaching the desired temperature, and then go back to the low setting to sustain it. If you put a two-stage cooling system with a programmable thermostat, you have a very adaptable, energy-efficient, practically worry-free, cooling system.
Because two-stage compressors can adjust how much cool air is being generated and released into the living areas, you don't end up with the large fluctuations in temperature common with traditional A/C's. This means the A/C doesn't have to work as hard to keep the temperature steady, which leads to even more energy savings. A two-stage compressor runs for long periods of time, and tends to have less wear and tear on its parts from turning off and on which gives it more durability and lasting power than standard A/C systems.
For more information on how two-stage cooling can help lower your utility bills, contact Hartman Brothers Heating & Air Conditioning Inc. We're here when you need us, providing heating and cooling solutions since 1963.
Our goal is to help educate our customers in New Haven, Indiana and surrounding Fort Wayne area about energy and home comfort issues (specific to HVAC systems). For more information about two-stage cooling and other HVAC topics, download our free Home Comfort Resource guide.
Credit/Copyright Attribution: "Lightspring/Shutterstock"