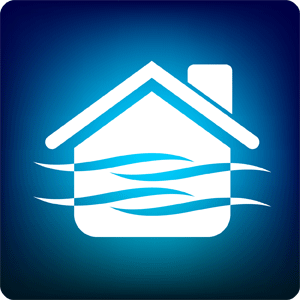 The weather is warming, and many Fort Wayne homeowners are looking for ways to beat the stuffy summer heat. While air conditioning, ceiling fans and proper humidity control play a large part in keeping your home comfortable, you shouldn't overlook home ventilation. Ventilation can be one of the biggest factors in keeping your home cool and your indoor air quality high.
There are three types of home ventilation you should know:
Natural ventilation. This is achieved easily by leaving doors and windows open, and can bring in welcome breezes and fresh outdoor air with minimal effort. However, it's a bad idea to leave doors and windows open when your air conditioner is running, as you'll lose a lot of cooling dollars due to cool air escaping into the outdoors. It may also be inconvenient in inclement weather or times of high pollen.
Room fans. Using the wind chill effect, fans can directly cool down the human occupants of a room. Ceiling fans, when operating in their forward (also known as summer or cooling) direction, not only deliver the cooling wind chill effect, but they also mix the cooler air near the bottom of your room with the rest of the air in the space. This helps the temperature throughout your room down.
Whole-house ventilation. Installing a whole-house system can mean that every room in your home gets airflow and that stale air is exhausted outside. A few improvements can make a whole-house ventilation solution even better: An air filter or air cleaner can prevent outside dust or pollen from circulating into your home, and an energy recovery ventilator can switch the temperatures of incoming and outgoing air so that you're not wasting energy dollars when the old air goes away.
Fort Wayne's Hartman Brothers Heating & Air Conditioning is proud to have served our Indiana neighbors since 1963. If you've got questions about home ventilation, give us a call!
Our goal is to help educate our customers in New Haven, Indiana and surrounding Fort Wayne area about energy and home comfort issues (specific to HVAC systems). For more information about home ventilation and other HVAC topics, download our free Home Comfort Resource guide.
Credit/Copyright Attribution: "attem/Shutterstock"