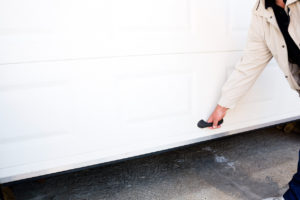 A warm garage makes accessing vehicles parked out there more comfortable on cold days. In many homes, however, garages also double as a workshop, a recreation room, or some other inhabited space where creature comforts in the winter are very welcome.
Creating a warm garage is a worthwhile goal for many homeowners. Here are five things to consider when thinking about what's required to get it done:
1. Seal the leaks. Garages are not constructed to the same standards of airtightness as living spaces. Before insulating, take time to locate and seal gaps in the garage's structure that will leak heated air to the outside. Once you start paying the monthly bills for heating the garage, you'll be glad you did.
2. Insulate to Department of Energy (DOE) standards. Unfinished garages are usually also uninsulated. Adding insulation here is less labor-intensive than insulating a finished space. Fiberglass batts can be readily installed between exposed wall studs and roof rafters. In our climate zone here in northeastern Indiana, DOE standards recommend insulating to a level of R38 to R60. For fiberglass batts, this translates to a thickness of 12 to 20 inches.
3. Deal with the door. Garage doors can be a portal for significant heat loss. Insulation kits to prevent this are available at home centers. Some kits provide vinyl-faced fiberglass batts that adhere to the door surface. Others utilize pre-cut expanded polystyrene foam board insulation that fits between the horizontal rails on the door. Also, inspect the bottom door gasket and replace if necessary to ensure air sealing.
4. Select a heater. While portable electric space heaters are some help, more definitive heating options include a forced-air gas garage furnace. Usually mounted at the ceiling, the unit includes a fan to circulate heat effectively. A ductless mini-split—basically a very compact, efficient heat pump—is another option that delivers reliable heat with minimal installation requirements.
5. Ventilate properly. For safety reasons, any combustion heating option installed in the garage also requires installation of a connected vent pipe to exhaust toxic byproducts into outdoor air.
For more about keeping a warm garage in chilly Indiana winters, contact Hartman Brothers.