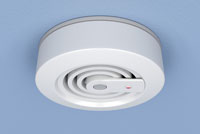 Carbon monoxide (CO)–a colorless, odorless, poisonous gas–is produced by the appliances you use in your home every day. Anything that burns fuel, such as a gas-fired furnace or water heater, produces carbon monoxide as a byproduct of incomplete combustion. Under normal circumstances, these harmful fumes are vented outside, but when something goes wrong, carbon monoxide gas could leak into your home.
That's where carbon monoxide detectors come in. You should have one of these devices installed on every floor of your home, particularly outside sleeping areas so you can hear the alarm if it sounds at night.
Why Test Carbon Monoxide Detectors?
Once an alarm is installed, you need to routinely test it to make sure it's working. Monthly testing is recommended for the following reasons:
You can never predict when a carbon monoxide leak will occur.
Testing CO detectors for functionality gives you a chance to change the batteries or replace the unit before disaster strikes.
Carbon monoxide poisoning can cause serious, life-long medical problems. High enough or prolonged exposure can even cause death.
About 170 people die every year from carbon monoxide poisoning. Many lives could be saved if everyone tested their CO detectors and took swift action upon finding that one doesn't work.
How to Test Carbon Monoxide Detectors
Fortunately, the testing process is very simple. Follow these steps:
Locate the device's test button.
Press and hold the button until you hear loud beeping. This tells you the device is working.
Release the button and wait for the beeping to stop.
Change the batteries and try again if your carbon monoxide detector fails the test. When you press the test button again and don't hear a beep, replace the device immediately.
Make it a habit to test your carbon monoxide detectors on the first day of every month. Then, replace the batteries annually to avoid a disaster before it happens.
For more information about buying or testing carbon monoxide detectors, please contact Hartman Brothers Heating & Air Conditioning, Inc. We have proudly serve the Fort Wayne area since 1963.
Our goal is to help educate our customers in New Haven, Indiana and surrounding Fort Wayne area about energy and home comfort issues (specific to HVAC systems). For more information about carbon monoxide detectors and other HVAC topics, download our free Home Comfort Resource guide.
Credit/Copyright Attribution: "Mile Atanasov/Shutterstock"