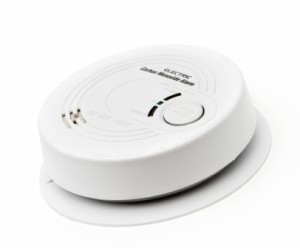 While preparing your home for the upcoming warmer months, don't forget about carbon monoxide (CO) detector maintenance to help keep your family safe from this toxic and potentially lethal gas. Even though you run your gas furnace less in the spring, and not at all in the summer, there's still a risk of carbon monoxide poisoning from other gas appliances or machinery, as well as vehicles operating near open windows or inside attached garages.
A Dangerous Gas
Invisible and odorless, CO is a dangerous gas that could poison your family without your even knowing it. It occurs when gasoline, coal, wood, propane, natural gas and other fuels burn incompletely. Fireplaces, gas stoves, vehicle exhaust, gas water heaters, kerosene heaters and woodstoves are just a few of the culprits that could be introducing carbon monoxide into your home. Symptoms of CO poisoning include nausea, chest pain, fatigue, dizziness, confusion, poor coordination and impaired vision. CO doesn't merely contaminate your indoor air; it can be fatal at high levels. Installing CO detectors in your home will protect your family from this potentially deadly enemy.
CO Detector Maintenance
Once installed, many homeowners forget about the CO detectors until the alarm is sounded. And while CO detector maintenance is not complicated or difficult, it's a vital step in ensuring the safety of your family and your home. Battery-operated detectors should have their batteries changed at least yearly. Some models will make a high-pitched chirping noise when the batteries begin to go dead. However, it's best to change the batteries annually before they die and leave your home unprotected.  A good general rule is to change the batteries in detectors – both smoke detectors and CO detectors – when you change your clocks for spring.
For more information about CO detector maintenance and what you should do to protect your home from CO, please contact us at Hartman Brothers Heating and Air Conditioning. Our family business has proudly served the Fort Wayne area since 1963.
Our goal is to help educate our customers in New Haven, Indiana and surrounding Fort Wayne area about energy and home comfort issues (specific to HVAC systems).  For more information about CO detector maintenance and other HVAC topics, download our free Home Comfort Resource guide.
Image courtesy of Shutterstock