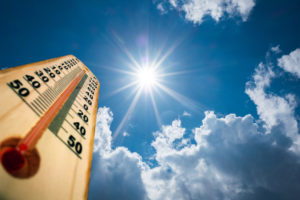 Summer is here and you know what that means - it's hot outside! Yes, these dog days of summer can be excruciating, but there are definitely ways for you to stay cool. Here are a few of our favorites:
Get Your A/C Serviced
Keeping your air conditioning unit running properly will improve its efficiency, which enables you to keep your home cool without breaking the bank. At the beginning of each summer (or before), have a professional HVAC technician service the system.
Switch to a Zoned System
Standard cooling is out and zoned cooling is in! As the name suggests, this allows you to divide your home into separate "zones" and concentrate your cooling efforts on only the areas that are occupied. This will keep you comfortable and lower costs.
Put a Fan in Each Room
Floor, desktop, and ceiling fans are a great way to stay cool no matter where you are in your home and they cost less to run than air conditioning. You may just want to avoid the air being blown directly into your face for an extended period of time, as this can sometimes cause respiratory problems for certain individuals.
Drink Plenty of Water
Not only will cold water keep you from becoming dehyrated, it'll cool down your body. This is especially helpful when you've just entered your home after being outdoors in the blazing sun.
Spend Some Time Indoors... Away from Home
The best ways to stay cool during the summer are often the most expensive, such as running your central air conditioning all day long. To give your system a break, not to mention your bank account, head down to your local mall, bookstore, or other location where THEY are footing the bill for keeping you cool.
For more expert advice on how to stay cool during the dog days of summer or if you have any other questions related to home comfort, please reach out to professionals at Hartman Brothers Heating & Cooling. We've been serving the HVAC needs of New Haven and the surrounding areas since 1963.
Our goal is to help educate our customers in New Haven, Indiana and surrounding Fort Wayne area about energy and home comfort issues (specific to HVAC systems). For more information about other HVAC topics, download our free Home Comfort Guide or call us at 260-376-2961.