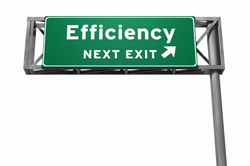 About 40 percent of the energy consumed by the U.S. residential sector is for space heating purposes. That makes raising gas furnace efficiency standards a huge target for improving energy efficiency across the country. Does that mean heating efficiency standards are going up any time soon?
History of Gas Furnace Efficiency Standards
The minimum efficiency rating for gas furnaces in the U.S. has increased very little over the past three decades. Back in 1992, the federal Department of Energy (DOE) set the first minimum at 78 percent Annual Fuel Utilization Efficiency (AFUE). That's the percentage of fuel that gets converted into heat in a furnace, and it remains the minimum today.
In 2007, the DOE proposed increasing the minimum to 80 percent AFUE, but this change had very little impact, since most equipment manufactured today already meets or exceeds 80 percent AFUE.
Problems with Raising Gas Furnace Efficiency Standards
With such a potential for energy conservation, why haven't gas furnace efficiency standards already increased? Well, in 2011, the DOE issued a rule that was to go into effect May 2013. The rule called for new regional standards for heating efficiency. In the northern United States where colder winters prevail, a minimum 90 percent AFUE would be required. The warmer southern half would be raised slightly to an 80 percent AFUE minimum.
However, before the rule went into effect, the DOE was challenged in court. How could people be expected to meet the new requirement if it also meant retrofitting or even completely abandoning their existing gas-fired water heater? After all, with stricter venting requirements of condensing furnaces rated 90 percent AFUE and higher, the existing exhaust flue would be unable to handle both pieces of equipment.
Current Status
While a federal court case involving the rules is still pending, the DOE had to withdraw the regional gas furnace efficiency standards. Because of the extended timeline required to approve and establish new rules, it could take years before an updated efficiency standard is presented again.
Until then, you can always purchase an Energy Star qualified furnace. The Energy Star labeling system already follows regional standards, requiring higher efficiency (AFUE 95 percent) for models installed in the northern U.S. For the South, the Energy Star minimum is 90 percent.
To learn more, please contact us at Hartman Brothers Heating & Air Conditioning in Fort Wayne.
Our goal is to help educate our customers in New Haven, Indiana and surrounding Fort Wayne area about energy and home comfort issues (specific to HVAC systems).  For more information about gas furnace efficiency standards and other HVAC topics, download our free Home Comfort Resource guide.
Image courtesy of Shutterstock