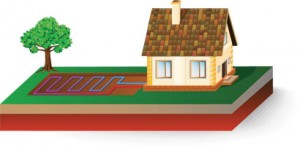 While it's true that geothermal heat pump systems require less maintenance than traditional HVAC systems, addressing a few key issues can help you maintain your geothermal system in top condition for decades.
Five important maintenance steps for a geothermal system include:
Proper installation. Although this is actually a proactive step, your geothermal system will never operate efficiently if it's not installed properly in the first place. Hiring a professional contractor with plenty of experience installing geothermal systems can bring you peace of mind that your system will be sized correctly and designed to meet the needs of your household.
Checking the underground pipes. Your geothermal system's buried pipes are designed to not require maintenance over their 20-50 year lifespan; however, professional evaluation of the system for any leaking or damaged pipes is an important aspect of regular geothermal system maintenance. The good news is that leaks in a geothermal heat pump's loop system are rare.
Regular cleaning of all mechanical components of your system. From the heat exchanger to the blower motor to the indoor coil, removing accumulated dust and debris from any of the system's indoor components is important to maintain your geothermal system. As with any forced-air HVAC system, the air filter should be inspected and replaced regularly.
Cleaning and maintainance of air ducts. Even if your geothermal unit is operating perfectly, in order for the conditioned air to reach the living spaces in your home, it must travel through the interior ductwork that delivers conditioned air throughout the home. If the ductwork is leaking, conditioned air will be lost to un-insulated spaces, reducing the comfort in your home and increasing your utility bills.
Confirming the proper level of water/antifreeze solution in your system's loop system. A professional technician can check the level of fluid in the pipes and adjust the level accordingly. Without maintaining a proper water/antifreeze level, your geothermal system will not be able to effectively exchange heat between the ground and your home. The refrigerant in the indoor heat pump component also must be checked on a regular basis.
Since 1963, the professionals at Hartman Brothers Heating & Air Conditioning have been helping homeowners in the Fort Wayne area meet all of their home comfort needs.
Our goal is to help educate our customers in New Haven, Indiana and surrounding Fort Wayne area about energy and home comfort issues (specific to HVAC systems). For more information about geothermal systems and other HVAC topics, download our free Home Comfort Resource guide.
Credit/Copyright Attribution: "Designua/Shutterstock"