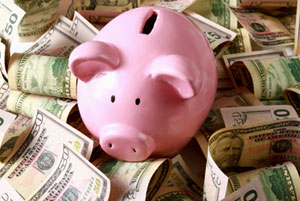 Geothermal heat pumps (GHPs) have a well-earned reputation for being among the most energy-efficient ways to cool and heat homes. The federal government recognizes this and offers geothermal tax credits for any homeowner who installs a qualifying system in a primary or vacation home. These tax credits are available through the end of December 2016. 
The efficiency of a GHP lies in the heat exchange process. A geothermal system uses an underground network of pipes, also called a loop field, carrying a water/anti-freeze solution (usually) to transfer the heat from your home into the ground (or in some systems a water source) for efficient cooling. In the winter, they harvest heat from underground to warm your home. Temperatures underground fluctuate little over the course of a year, and remain more moderate than air temperatures. A GHP takes much less electrical energy to complete the heat-exchange process than does a conventional air-source heat pump that extracts heat from cold air in the winter and must deposit it into very hot air in the summer.
Not only are these systems highly efficient, they're also very durable. None of the parts has any outdoor exposure, contributing to their long life. The loop field typically carries a 50-year warranty, and the indoor heat pump component can last 25 years and more with proper maintenance.
While these systems will pay for themselves more quickly than conventional HVAC systems in significantly lower cooling and heating costs, they typically cost a lot more upfront, largely because of the costs associated with excavating and installing the loop field. A homeowner can claim a tax credit for 30 percent of the cost of buying and installing a qualifying geothermal heat pump system.
The only two parts of the GHP that aren't deductible for the geothermal tax credits include the ductwork delivery system and a supplemental heating coil. The tax credits won't cover homes used as rentals, but it does cover new construction for primary and secondary homes. The GHP must also meet the Energy Star's requirements at the time it was installed to qualify for the credits. There is no limit on the allowable amount that you can claim to receive this generous tax credit.
If you'd like more information about the geothermal tax credits to save on energy bills, contact Hartman Brothers Heating & Air Conditioning. We've provided top-notch HVAC services for the Fort Wayne area since 1963.
Our goal is to help educate our customers in New Haven, Indiana and surrounding Fort Wayne area about energy and home comfort issues (specific to HVAC systems).  For more information about geothermal tax credits and other HVAC topics, download our free Home Comfort Resource guide.
Credit/Copyright Attribution: "Sheff/Shutterstock"