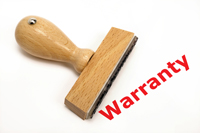 A lot of factors go into the decision to purchase home comfort equipment and select a provider to install it; HVAC warranties should be on your list of features to compare. Most HVAC equipment manufacturers have a warranty policy, but they are not all the same. HVAC contractors may also offer a separate warranty program, but not all companies do this, so if it's important to you, be sure to ask your contractor what type of warranty they offer and what equipment it includes.

Lennox offers both a basic and an extended warranty program. The basic Lennox warranty varies depending on the type of equipment you purchase, but they all include some coverage on parts, the compressor and the heat exchanger. You can also purchase a supplemental warranty to extend the coverage on parts, or for even more protection you can invest in the Comfort Care Plus extended warranty program. This coverage extends to all HVAC equipment, even if it wasn't manufactured by Lennox, and also includes service and repairs.
In addition to variations in coverage, there are some other facts about HVAC warranties you need to know:
Warranty registration. Some manufacturers require equipment registration for the warranty to be activated. In the case of Lennox, the basic warranty is automatically applied, but any of the extended plans require online registration.
Voiding HVAC warranties. Most warranties require a certain level of equipment maintenance to stay in effect. To avoid inadvertently voiding your warranty, invest in a preventive maintenance plan.
Transferring HVAC warranties. An extended warranty may allow you to transfer the benefits to a new homeowner. This can increase the value of your home if you decide to sell it, so bear this in mind when deciding which warranty is right for you.
In addition to the manufacturer warranty, Hartman Brothers Heating and Air Conditioning offers a warranty program. We warranty most equipment that we install for 10 years after the date of installation. To learn more about this program, or to compare different manufacturer HVAC warranties, call today to speak with one of our trained professionals.
Our goal is to help educate our customers about energy and home comfort issues (specific to HVAC systems).  For more information about HVAC warranties and other HVAC topics, download our free Home Comfort Resource guide.
Hartman Brothers services New Haven, IN and the surrounding Fort Wayne area. Visit our website to see our special offers and get started today!