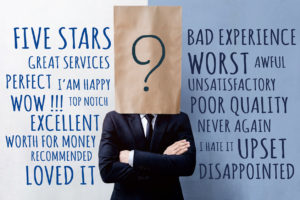 We've grown accustomed to checking out reviews whenever we want to go somewhere or buy something. And most of us admit to being swayed somewhat by those reviews, because if it's on the internet, then it must be right. Right?
Wrong. And what's more, most of know that reviews can be skewed. We've all suspected that too many good reviews could mean the ravers have been hired to promote, while too many bad ones might be due to the vindictiveness of someone with an ax to grind.
But what about air conditioner reviews? What are you to think when you see an online review that pans your HVAC company -- the one you've used for years and that you've learned to trust? What's going on? Well read on, and learn a little bit more about online reviews.
Motivation for Reviews
You're probably not surprised to learn that most people write reviews when they've had a bad experience with a company. What's more, most people heed negative views more than positive ones, assuming that because there are fewer of them, they are of more value. People also find them more informative -- for instance, they learn the negative points of a product and decide if they can live with them if they occur with their purchase.
Who Writes Reviews?
Further, reviews are subjective, and are written by a minuscule subset of the populace -- only about 15 out of 1000. Plus, these people are not typical of the populace. Thy tend to have these characteristics:
Married
More kids
Younger
Not well to do
Likely to make returns
Buy lots of products
The takeaway for HVAC customers is that if you want to know how good a company is, don't read reviews. Instead, ask for references and check them. Also, ask if the company is licensed, insured and bonded. One huge red flag: a company gives you a quote over the phone. HVAC companies should always go to your home before giving you an estimate.
For more on heating and air conditioner reviews, contact Hartman Brothers. We've served northeast Indiana since 1963.
Our goal is to help educate our customers in New Haven, Indiana and surrounding Fort Wayne area about energy and home comfort issues (specific to HVAC systems). For more information about other HVAC topics, download our free Home Comfort Guide or call us at 260-376-2961.