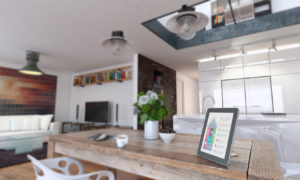 Do you have some bad HVAC habits? Chances are, you do and aren't even aware of how they're not only costing you more in utility bills, but also possible damaging your HVAC system. Here are several practices homeowners should give the heave-ho to right away.
Seldom changing the filter
Maintaining a clean air filter in your HVAC system is the no. 1 thing you can do to keep the system running right, and to ensure it lasts its full length of days. A clean filter ensures there is better air flow, and that the system runs cooler. Cooler operation means there is less wear on parts. In addition, it will keep the system cleaner, so there's less friction between moving parts, less wear and tear in general and less tendency to overheat. Further, a clean filter will help the HVAC system do a better job of dehumidifying the home so that you don't feel overly warm because of high humidity .
Changing the thermostat continuously
You should always set the thermostat's schedule, and let the system run accordingly. Continuously resetting the thermostat may mean the system will run too long or short cycle, both of which are hard on the equipment. What's more, turning the thermostat way up or way down will not make the system heat or cool any faster; it will just make it run longer.
Closing registers and vents
The HVAC system in your home is designed to cool or heat a certain amount of space. When vents and registers are closed, energy efficiency is compromised. You may be shutting off the heating and cooling in one room, but the unit will still be working to pull in return air from cracks in windows or doors. Limiting air flow, especially in winter, can cause freezing in ducts.
Covering up the condenser
A condenser cover should never be used when the A/C is running. Covering the condenser in winter may actually encourage vermin to take up residence.
To learn more about improving your HVAC habits, contact Hartman Brothers. We've served New Haven since 1963.
Our goal is to help educate our customers in New Haven, Indiana and surrounding Fort Wayne area about energy and home comfort issues (specific to HVAC systems). For more information about other HVAC topics, download our free Home Comfort Guide or call us at 260-376-2961.