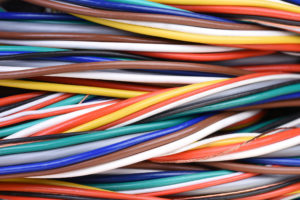 If you're upgrading your HVAC thermostat, it's a good thing to find out in advance if your existing system provides a c-wire.
Today's smart thermostats provide a great deal more options and convenience such as wifi connectivity and a bigger, brighter, multi-functional control screen. These improvements typically draw more electricity than the existing thermostat you're replacing. The c-wire ("c" stands for "common") is an important extra electrical wire that enables continuous 24-volt power to operate newer smart thermostats. If you don't have one installed with your existing model, you'll probably need to have it installed in order to adequately power the new unit.
How Can You Tell?
By removing the existing thermostat from its wall mounting bracket, you can usually see the wires that protrude from the wall and connect to terminals in the wall bracket. The best way to determine if you already have a dedicated c-wire is by simply counting those existing wires.
If fewer than five wires are visible and connected to the thermostat terminals, your system probably lacks the necessary wire and an additional wire will need to be installed.
If five wires are connected to the terminals—or four are connected, but there's also an additional wire that is not connected to any terminal—that usually means the system is already configured to enable continuous 24-volt electricity to power the thermostat. No new wires should be required.
Note: While the necessary common wire may very often be blue, you can't rely on color alone. There is no specific standard for color of that wire.
Installation
Installing the required extra wire is a familiar procedure for a qualified professional HVAC service tech. Usually the new common wire will extend from the thermostat to the electrical control board in your furnace to provide the connection that ensures continuous 24-volt electricity to your new thermostat.
For more information about determining whether you need a c-wire installation with your new smart thermostat, contact the professionals at Hartman Brothers.