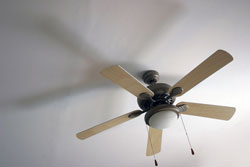 Ceiling fans are one of the most misunderstood appliances in your home. Most people don't realize that they can be operated during the heating season to move warm air down into the living spaces where occupants can feel it. However, if you're in the know, and are aware of the wintertime benefits of ceiling fans, it's important that when spring arrives, you remember to reverse the blade rotation direction of your ceiling fan back to the default setting for cooling (counterclockwise). Otherwise, you'll miss the cooling effect of your ceiling fans when it gets hot outside.
You may have heard of the term "wind-chill". We think of it in the coldest depths of winter when a howling wind blows against your skin. Although it may be 40 degrees outside, on a very windy day it will feel like it's below freezing. That's what wind-chill is, and you can use that same principle when you reverse the direction of your ceiling fan.
In the winter, you want the ceiling fan blades to be rotating in a clockwise rotation. This pushes the air upward and redistributes warm air that collects near the ceiling back down into the room where people can feel it. That makes the room warmer, and the thermostat won't kick on the furnace quite so soon, saving on energy and heating bills.
If you did this in the winter, remember to reverse the direction of your ceiling fan to a counterclockwise rotation in the summer so that the air blows downwards. The air blowing down on you provides that desirable cooling effect, even if it doesn't actually make the room cooler. That wind-chill effect will allow you to raise the thermostat temperature a few degrees, without losing comfort.
So this summer, don't forget to reverse the rotation direction of your ceiling fan for more effective and efficient cooling, all season long.
If you have any questions about staying cool this summer, please contact us at Hartman Brothers Heating & Air Conditioning. We've been serving the Fort Wayne area since 1963.
Our goal is to help educate our customers in New Haven, Indiana and surrounding Fort Wayne area about energy and home comfort issues (specific to HVAC systems).  For more information about ceiling fans and other HVAC topics, download our free Home Comfort Resource guide.
Image courtesy of Shutterstock