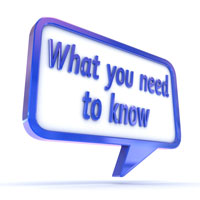 Carbon monoxide is an odorless, tasteless, invisible gas that is produced in exhaust from vehicles, gas furnaces, stoves, wood fires and other appliances that work by combustion. Unfortunately, CO can be very hazardous to humans and animals, and, in fact, causes hundreds of accidental deaths in the United States every year. Since it can't be detected by sight or smell, how would you know if you'd been exposed to carbon monoxide?
Symptoms of Carbon Monoxide Exposure
Though these symptoms can occur for other reasons, the presence of multiple symptoms combined with proximity to a fuel-burning appliance, tool or vehicle can be a sign of carbon monoxide exposure.
Lightheadedness or dizziness
Difficulty breathing
Weakness
Vomiting
Chest pains
Headaches
Symptoms of Carbon Monoxide Poisoning
With prolonged exposure to carbon monoxide, the above symptoms will likely be present with increased severity. Also be on the lookout for the following things:
Severe confusion
Loss of consciousness
Tachycardia (rapid heartbeat)
Convulsions
Death can occur with acute carbon monoxide poisoning, when people are exposed to carbon monoxide at high levels or for prolonged periods of time. Unfortunately, many people who succumb to this gas do so in their sleep.
Preventing Carbon Monoxide Exposure
There are several things that you can do to keep your family and pets safe from exposure to carbon monoxide:
Get a carbon monoxide detector, or better yet, two or more. These life-saving gadgets can be easily installed and maintained. Make sure to have enough coverage for every level in your home.
Keep your gas furnace, water heater and stove or oven regularly maintained. Having a technician check for bad parts or leaks before exposure to carbon monoxide can happen is your best-case scenario.
When burning wood in a fireplace or wood-burning stove, make sure they are properly vented and keep your chimneys well maintained. Many people will crack a window just a bit in the areas where wood is being burned to let any possible exhaust or smoke buildup to vent.
Your safety is our top priority. If you have any questions about carbon monoxide detectors, furnace maintenance or any other issue, please contact us at Hartman Brothers Heating & Air Conditioning.
Our goal is to help educate our customers in New Haven, Indiana and surrounding Fort Wayne area about energy and home comfort issues (specific to HVAC systems). For more information about carbon monoxide and other HVAC topics, download our free Home Comfort Resource guide.
Credit/Copyright Attribution: "www.3drenderedlogos-com/Shutterstock"