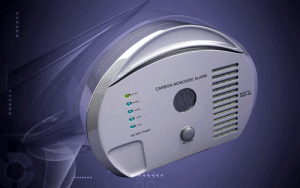 When you turn on your fuel-burning heating system for the fall, you have a reasonable expectation that it will operate safely. However, some unforeseen issues could occur that might make your gas or propane furnace a potentially deadly risk. To prevent this danger, you need a carbon monoxide (CO) detector in your home.
The Nature of Carbon Monoxide
Carbon monoxide is generated as a byproduct of combustion. This means that every time something burns, it will produce carbon monoxide. Your gas, fuel oil or propane furnace generates carbon monoxide when the fuel is burned to produce heat.
It is impossible for human senses to detect carbon monoxide. The gas is invisible—odorless, tasteless, and colorless. Exposure can cause serious health problems and, in some cases, even death. Most deaths from carbon monoxide occur when people are exposed to the gas in their sleep. Since there is no way for them to naturally detect CO gas, they won't know it's present until it's too late, if at all. The risks associated with carbon monoxide make it necessary to install carbon monoxide detectors in your home.
How Carbon Monoxide Leaks Can Occur
Carbon monoxide gas is usually vented to the outdoors through a system of exhaust pipes in your heating system. However, if those pipes become damaged or clogged, the CO gas cannot escape and will leak back into your home.
Damage or excessive wear to your furnace, resulting in problems such as a cracked heat exchanger, can also cause carbon monoxide leaks.
There should be at least one carbon monoxide detector on each floor of your home. It's better to have two, one on each end of each floor. There should also be a CO detector mounted above the doorway of every bedroom.
With more than 52 years of experience, Hartman Brothers Heating & Air Conditioning has been a consistently reliable provider of expert HVAC services throughout the New Haven and Fort Wayne areas. Contact us today for more information on the need for a carbon monoxide detector and how you can make your home safe from this invisible threat.
Our goal is to help educate our customers in New Haven, Indiana and surrounding Fort Wayne area about energy and home comfort issues (specific to HVAC systems).
Credit/Copyright Attribution: "Creations/Shutterstock"