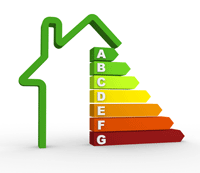 Want to save money on your utility bill and keep your home comfortable all year? The U.S. Environmental Protection Agency manages the Energy Star program to guide consumers in the purchase of a variety of energy-using electronics and appliances, including residential heating and cooling systems. In the last year or so, the EPA realized that so many products were qualifying for the Energy Star that it had lost its edge when it comes to singling out the best of the best. That's why the federal agency developed the Energy Star Most Efficient program. When you purchase a central A/C, heat pump or furnace that's marked as Most Efficient, you know you have a product that will begin saving you immediately on energy bills, and keep saving throughout its service life.
When a central air conditioner or heat pump, for example, achieves the Energy Star Most Efficient distinction, it has shown that it can cut energy consumption by 30-47 percent over models that have achieved minimum federal efficiency standards. The cost savings over your existing cooling system, which likely is well below the federal minimum, will be even greater. The typical A/Cs and heat pumps that were installed in Indiana homes 10 years ago had SEER (Seasonal Energy Efficiency Ratio) of around 10, and today that rating is 20-25 for the most efficient cooling systems.
For furnaces, Energy Star Most Efficient models boast Annual Fuel Utilization Efficiency (AFUE) ratings of 97 percent, meaning they convert nearly all of their fuel into heat for your home. The current minimum standard to get the Energy Star is AFUE 95 percent in the Northern States, including Indiana. The federal minimum without the Energy Star is 78 percent, though that's going up to AFUE 80 percent next year.
The most efficient systems are also the most expensive, so it's important to calculate the potential cost savings before purchasing an A/C or heat pump. The biggest factor you should consider when installing a new system is how long you plan to reside in this home. If you have no intention of moving any time soon, choose the most efficient A/C or heat pump that you can afford because it will pay for itself in the long run.
If you have any questions about what heating and cooling system is best for your home, call on the specialists at Hartman Brothers Heating and Air Conditioning. Hartman Brothers has been taking care of homeowners in the Fort Wayne area for 50 years.
Our goal is to help educate our customers in New Haven, Indiana and surrounding Fort Wayne area about energy and home comfort issues (specific to HVAC systems).  For more information about energy star and other HVAC topics, download our free Home Comfort Resource guide.
Image courtesy of Shutterstock